фото: www.slate.com
Розмальовки вже давно перестали бути лише розвагою для дітей. Поява особливого жанру – розмальовок-антистрес – дозволила нарешті дорослим не соромитись розмальовувати, проводити час із дітьми,  та стала гарним засобом для релаксації. Ми підготували невеличку підбірку найвідоміших розмальовок для дорослих у світі. Тут є безліч реальних та фантастичних тварин, вишуканих візерунків, пригоди Гаррі Поттера, міста та чудернацькі створіння, та навіть розмальовка про актора Енді Рейдмана.
"Головне правило для усіх розмальовок – не змішувати різні кольори в одному полі, тобто не заходити за лінію. Це вимагає спокійного фокусування, щоб робота йшла врівноважено і плавно. Це схоже на мантру, в якій повторення означає релаксацію, тож зафарбовування це теж один із видів медитації. Будь-яка медитація несе користь розуму, тілу та душі. Коли ми фокусуємось на простих завданнях, ми починаємо менше тривожитись", – коментує директор британського центру арт-терапії London Art Therapy Centre Хефзібах Каплан.
"Чарівний сад" Джоанна Басфорд
Важко почати цю добірку не з Джоанни Басфорд, художниці, яка стала засновницею цього жанру. У світі вже розійшлось більш, як мільйон копій цієї розмальовки. Саме ця робота стала першою дорослою книжкою для зафарбовування. Авторка розповідає, що на неї її надихнули поїздки на острів Аарон у Шотландії. Її прототипом були раніш звичайні чорно-білі ілюстрації, які художниця не замальовувала, щоб зекономити на дорогому друці. А потім з'явився видавець, який підтримав ідею про розмальовку для дорослих. У ній є багато малюнків лісових істот, якісний папір, а також квест-частина, де потрібно знайти дев'ять захованих символів. Відразу після "Чарівного саду" у світ вийшли розмальовки "Загублений океан" та "Зачарований ліс". 
Читати: Розмальовки для дорослих. Як старий принтер допоміг Джоанні Басфорд завоювати світ
Грехем Леслі МакКалум Calming Colouring Nature Patterns ("Заспокійливі візерунки природи")
На 96 сторінках усе різноманіття природних візерунків від листочків, пелюсток, дерев до краєвидів. Їх автор художник та дизайнер Грехем МакКалум. Він також автор довідника 4000 мотивів. Тварини, птахи і риби. Тож, Грехем добре розуміється на тваринному світі, його малюнки якісні та чіткі.
Емма Фарраронс The Mindfulness Colouring Book ("Уважна розмальовка")
Ця книжка розміром із блокнот, тож може легко поміститись у кишені. Емма Фарраронс – французький ілюстратор, проживає у Лондоні. Має досвід у дизайні текстилю, що і відобразилось на її роботах. "Уважна розмальовка" уся заповнена симетричними візерунками, які схожі на тканини для вишуканих суконь. Найбільше в її роботах геометричних фігур, квіткових візерунків та хвиль.
Дарія Сонг The time garden ("Сади часу")
Ця розмальовка сподобається тим, хто вважає звичні візерунки трішки нудними. Дарія Сонг – корейська художниця. У книжці багато годинників із зозулями, неначе із фільму про Нарнію та магічних пейзажів. Її особливість ще у тому, що обкладинку теж можна розмалювати.
Міллі Маротта "Дивосвіт. Розмальовка для спокою та натхнення"
Ця розмальовка йде на другому місці за популярністю після садів та океанів Джоани Басфорд. У світі вже продали більш як 500 тисяч примірників "Дивосвіту" Міллі Маротти. Переклали на 19 мов.  На її сторінках багато екзотичних тварин та рослин. Має додаткові "вільні" місця, на випадок, якщо захочеться домалювати щось своє. Особливість розмальовок Маротти – стовідсотковий ефект занурення в інший світ.
"Аніморфія" йде на крок вперед від звичної розмальовки. У ній багато завдань на пошук елементів. На початку книжки є ключ. Із ним через мільйони маленьких об'єктів та дивних істот, від меч-риби до великих котячих, потрібно знайти розгадку.  Автор пропонує поринути у надзвичайний світ чудернацьких образів, фантазій, закликає дати волю своїй уяві та бажанням і за допомогою кольорових олівців вивільнити свою енергію на папері. Розмальовка зацікавить людину будь-якого віку. Адже головне, щоб ваш характер, ваш настрій співпадали з сюрреалістичними малюнками Кербі Розанеса.
Стів Мак-Доналд "Дивовижні міста"
Художник Стів Мак-Доналд створив вражаючі образи з різних куточків світу – від Нью-Йорка, Лондона Парижа й Амстердама до Стамбула, Токіо, Гвадалахари чи Ріо-де-Жанейро. У деяких з них ви, можливо, бували, та тут опинитеся в містах, досі не бачених! І хтозна, може, завдяки позитивним думкам і мріям, які супроводжують будь-яку творчість, Ви таки невдовзі відвідаєте їх насправді. Адже мрії втілюються, якщо цього прагнути.
Читати: Секрет антистрес-розмальовок. Чому дитяча забава раптом стала популярною серед дорослих
Муз Алан "Fill-me-in"
Це не просто розмальовка, а поле для гри, так відгуються автори. Вона разюче відрізняється від "візерункових" розмальовок. У ній багато маленьких створінь, людей та сценок із ними.  Наприклад, квітковий парад, або мітинг вигаданих створінь із порожніми транспарантами, на яких можна написати, що забажається.
Гаррі Поттер. Книжка-розмальовка
Книжка-розмальовка про Гаррі Поттера вийшла друком в Британії.  На сторінках видання, а їх тут 96, зображені улюблені сцени та персонажі за мотивами фільмів про Гаррі Поттера: змагання з квідичу, Сортувальна церемонія, Тричаклунський кубок, Гогвортський замок, Зачарований ліс, Добі, Норберт, непослухи зі школи магії Слизерину та навіть фінальна битва Гаррі з «Тим, чиє ім'я не можна називати вголос»
Люсі Енгельман Field Guide: Creatures Great and Small ("Істоти великі і маленькі")
"Істоти великі і маленькі" – це подарунковий набір постерів для розфарбовування. Під обкладинкою можна знайти 35 листів з приголомшливими чорно-білими контурними ілюстраціями тварин, риб, птахів, комах, які можна перетворити в дивовижні кольорові плакати. В атласі зібрані живі істоти з усіх куточків нашої планети: екзотичні метелики і дикі кішки, співучі птахи і верткі ящірки, кальмари, медузи, черепахи, жуки, коні, ведмеді. Всього понад 270 створінь. До малюнків додаються факти про тварин.
Лулу Майо Миллион котов. Раскраски, вызывающие улыбку
Розмальовка "Мільйон котів" – найбільше сподобається тим, хто обожнює цих тварин. Любителі кішок порадіють такій кількості забавних зображень чарівних вихованців: вгодовані коти і кокетливі кішки, коти в автобусах і на велосипедах, коти-музиканти та інші милі створіння, народжені фантазією талановитої художниці Лулу Майо. Гумористичні ілюстрації з безліччю інтригуючих деталей не залишать байдужими всіх любителів розмальовок.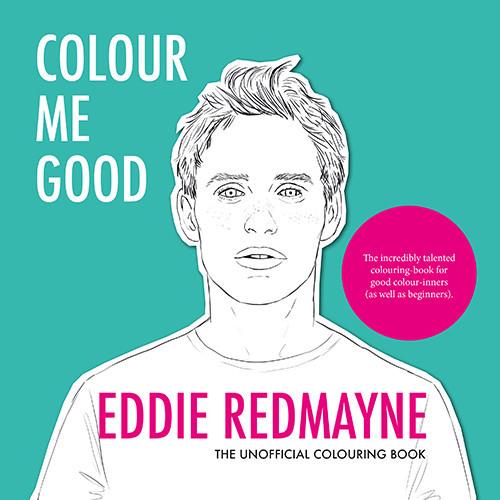 Мел Елліот Colour Me Good Eddie Redmayne ("Розмалюй Едді Редмайна")
Художник Мел Елліот не вперше створив "зіркову" розмальовку із гумором. До цього вже вийшли такі книжки із Бенедиктом Камбербетчем, Раяном Гослінгом та Тейлор Свіфт.  Автор піджартовує, що молодий актор уже має Оскара та купу нагород, тож він вирішив для нього намалювати ще одну. Так само, як діти люблять малювати і розфарбовувати своїх улюблених казкових героїв, тепер можуть дорослі "доторкнутись" до своїх кінокумирів, та їх  розмалювати.